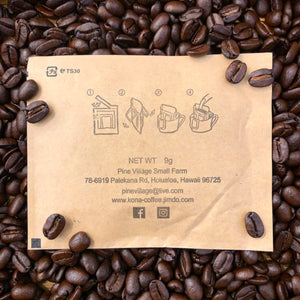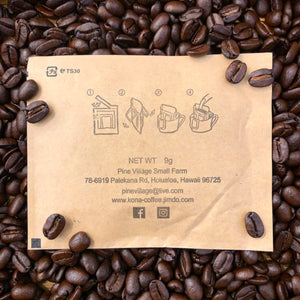 On Sale
Kona Coffee - Drip Bag
With each cup of this 100% Kona coffee, you can expect to taste a richness similar to brown sugar with almond and milk chocolate notes, and a hint of a bright fruit flavor. Each delicious cup is bright, crisp and clean, proudly showcasing the skill of each farmer behind creating the blend.
Carefully handpicked, roasted, and blended 100% single estate Kona Coffee beans from Pine Village Small Farm :))
Each bag makes 2 cups or 1 small pot of coffee.
Kona coffee is a premium gourmet Arabica coffee grown in the Kona district on the western side of the Big Island of Hawaii. Known for its simple yet rich flavor, typically light, delicate and mild with a complex aroma and taste.